Home
> About Us
About Pure AirCare - Your Air Duct and Dryer Vent Cleaning Specialists
Our Mission
Our mission is to show you the difference between your current conditions and the outcome after you experience Pure AirCare! We will have you and your family breathing Pure and your furnace working optimally (costing you less in your monthly bills).
When your family needs HVAC System Cleaning, Dryer Vent Cleaning or Air Duct Servicing, you will receive the highest level of dedication, integrity and professionalism from our technicians. We know you chose us because you want the attention to detail you and your family deserve. You'll see and breathe the difference when its Pure AirCare!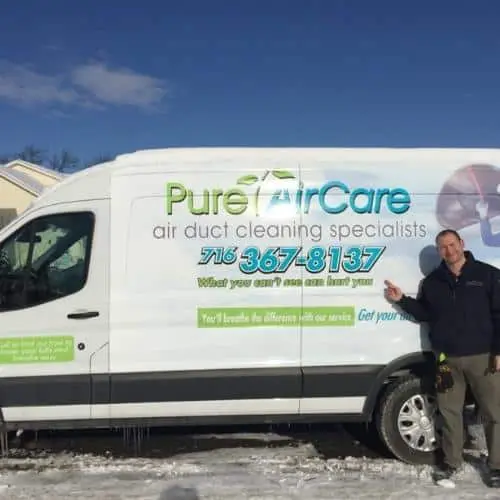 Providing Excellent HVAC Service Since 2016
Your home is your castle. Keep it clean. Pure AirCare specializes in cleaning your home from top to bottom. Clean air ducts, clean dryer vents, and a cleaner you.
Pure AirCare is a locally and veteran-owned and operated business. That means we take care of our own. Meaning we take care of you. Our focus is air ducts and dryer vents, but we also offer an array of other services. From routine maintenance to emergency services, we're here to help you breathe easy.
Quality. Service. Results. You can have it all when you call Pure AirCare. If you're looking for a company that is going to be there when you need them, look no further.
Several of our staff members include prior military background, so you can rest assured that you will be receiving quality service with the utmost attention to every detail with the integrity that the job is done right and your indoor air pollution problem is resolved.
Pure AirCare uses state of the art equipment: We do not use vacuums that are only a little stronger then your house hold shop vac. We use advanced negative air systems which provide the best results with three stages of filtration. All our air duct cleaning products that are used to safe guard your home and loved ones are environmentally safe.
Improve Your Home Enviroment