Home > Electrostatic Sanitation
Electrostatic Air Duct Sanitizing Services
How to Clean Your Home Without a Mop?
Clean Your Home With The Power of Nature!
Keep your home healthy and clean without using harsh chemicals. No other air sanitizer offers the same level of purity as Air Duc Sanitization does.
Don't just mop up germs. Eliminate them with Electrostatic Air Duct's air sanitizer solution. The Solution is simple
Atomized, positively charged, botanical solutions are distributed evenly by air compressor technology.
The solutions particles are attracted to every surface, including hard-to-reach crevices in the home.
When the coating has been achieved, the home/surfaces are left to saturate for a short while.
While that is going on, the agents in the botanical solution go to work in killing germs and microorganisms for allergens.
We provide fast, professional services backed by great customer care so give us a call today at (716)367-8137!

✓ The Right Equipment
✓ Honest Upfront Pricing
✓ 100% Satisfaction Guranteed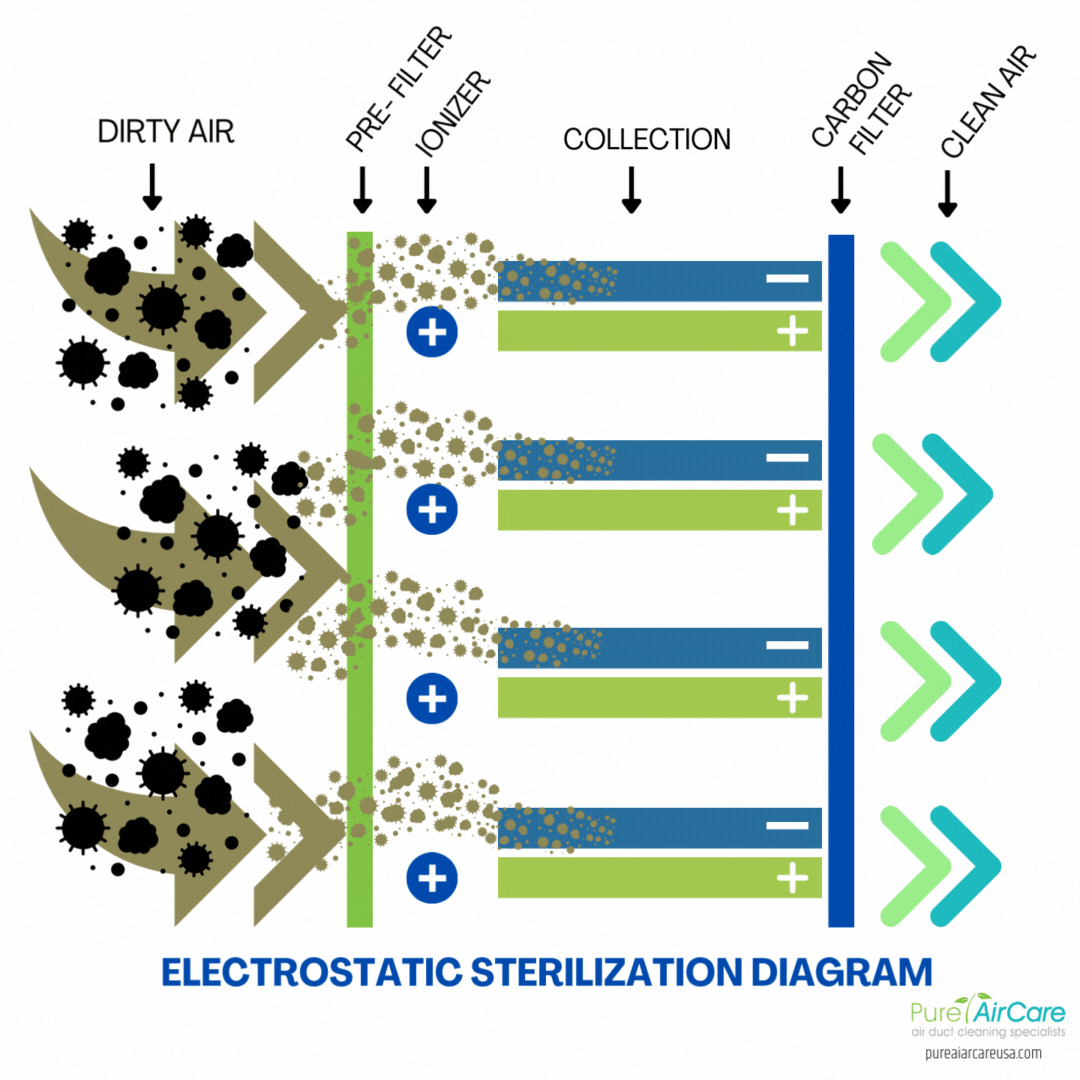 Stop Germs From Spreading In Your Home With This Air Sanitization System.
What We Do
If only it was this easy to rid homes of nasty bacteria, they would all be a lot cleaner.
Electrostatic Technology – Unlike traditional methods, electrostatic technology leaves no trace behind–you will never find a residue that can attract dirt or cause any health problems.
Environmentally Friendly – Our environment is important to us here at Pure AirCare–that's why our process is completely eco-friendly and chemical free.
With Germs Everywhere – Protect Your Family: One thing is clear–in our modern world, there are germs everywhere. You just can't avoid them.
Fight Infection – Prevent cross contamination from germs, fungi, bacteria, or viruses inside an office building or other commercial space; instead, you'll eliminate them before they even come close to making someone sick.
Maintain Health – Keep those who come into contact with airflow clean and healthy during their stay at your facility so they're not a risk to others when they leave.
Take it Easy – Our team can handle the job without wearing down their time or yours—no onsite mess or fuss.
Effective – Electrostatic air duct disinfection is the most effective way to rid air ducts of contaminants (germs, fungi, bacteria, or viruses). We do this by making sure there are no traces left behind.
Professional – Our company specializes in electrostatic air duct disinfection combined with a botanical solution to achieve a healthier home environment. With licensed, insured, and skilled technicians at our disposal, we will execute professional work at a competitive price.
Economical – Our team executes affordable work in a timely manner while providing professional service.