Home > Advance Dryer Vent Cleaning
Advance Dryer Vent Cleaning Services
At Pure AirCare, we understand the importance of keeping your dryer vent clean. A dryer vent that isn't properly maintained can cause your dryer to overheat, which can in turn start a fire. In addition, a clogged dryer vent can cause your dryer to work harder, which not only uses more energy but can also shorten its lifespan. To ensure that your dryer vents are clean and clear, it's best to hire a professional dryer vent cleaning service. Vent cleaners have the knowledge and tools to thoroughly clean your dryer vents, ensuring that they are clear of any debris. As a result, you'll be able to enjoy safer and more efficient dryer operation.
In addition to being unsafe, a clogged dryer vent can also lead to poor indoor air quality. Your dryer vents are home to a variety of pests, bacteria, and allergens. Keep your home healthy with regular dryer vent cleaning. You'll breathe easier knowing that your vents are clean and clear. Schedule a vent cleaning today!

✓ The Right Equipment
✓ Honest Upfront Pricing
✓ 100% Satisfaction Guranteed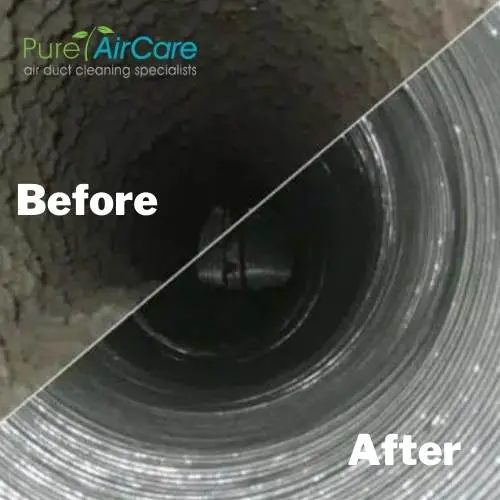 Service Details
What We Do
At Pure AirCare, we understand the importance of maintaining good indoor air quality (IAQ). Your home's ventilation system is a key part of keeping the air in your home clean and free of contaminants. Dryer vents are often overlooked when it comes to IAQ, but they play a critical role in removing moisture and odors from the air. That's why we offer professional dryer vent cleaning services. Our team of experienced technicians will clean your vent from top to bottom, removing any built-up lint or debris. We'll also check for any potential fire hazards so you can be sure your dryer is safe to use. Give us a call today at (716)367-8137 to schedule a consultation.