Home › Air Duct Cleaning in Tonawanda, NY
Trusted Air Duct Cleaning Services in Hamburg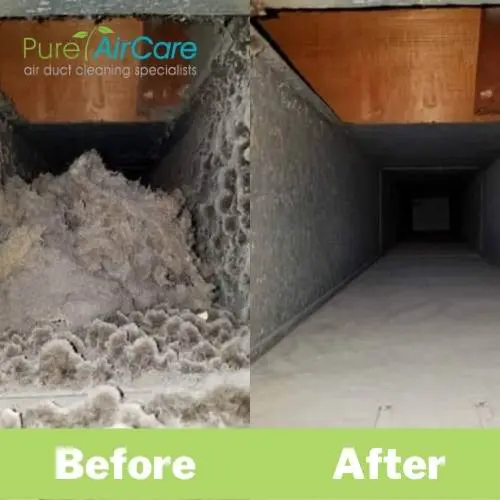 Welcome to Pure AirCare, your local expert in air duct cleaning services in Hamburg, NY. With a strong commitment to improving indoor air quality and serving our community, we are proud to extend our top-notch services to Hamburg and the surrounding areas. Since 2012, Pure AirCare has been the trusted name for air duct cleaning, dryer vent cleaning, and HVAC cleaning services in Western New York(WNY).
Air Duct Cleaning in Hamburg, NY:
Air ducts are the lungs of your home or business, circulating air throughout the space. Over time, dust, allergens, and contaminants can accumulate in your ductwork, affecting indoor air quality. Our air duct cleaning services in Hamburg are designed to:
Remove dust, debris, and contaminants from your ducts.
Improve indoor air quality, reducing allergens and pollutants.
Enhance the efficiency of your HVAC system, potentially lowering energy costs.
Dryer Vent Cleaning:
Neglecting dryer vent maintenance can lead to serious fire hazards. Our dryer vent cleaning services in Hamburg can:
Prevent lint buildup and blockages in dryer vents.
Reduce the risk of dryer fires.
Improve dryer efficiency, saving you time and money.
HVAC Cleaning Services
A clean HVAC system is essential for maintaining a comfortable indoor environment. Our HVAC cleaning services in Hamburg aim to:
Ensure the proper functioning of your heating and cooling systems.
Enhance energy efficiency.
Promote healthier indoor air quality.
Contact Us Today:
Pure AirCare is here to serve Hamburg, NY, with exceptional air duct cleaning and related services. If you're ready to improve your indoor air quality and enjoy the benefits of a clean, efficient HVAC system, contact us today for a free consultation. Our friendly team is ready to answer your questions and schedule your service. At Pure AirCare, we're not just cleaning air ducts; we're improving lives. Trust us to make your home or business a healthier and more comfortable place.